CVSA put 14% of vehicles out of service for brake-related violations during surprise Brake Safety Day
Posted June 24, 2022
The Commercial Vehicle Safety Alliance (CVSA) just released the data it collected during an unannounced Brake Safety Day, when inspectors investigated 9,132 commercial motor vehicles (CMVs). The one-day enforcement initiative, held on April 27, was conducted in 46 jurisdictions throughout Canada and the United States. In addition to their usual CMV inspections, inspectors also collected and reported data on brake-related violations.
The largest percentage of brake hose and tubing violations — 37 percent — were category 2 violations, which includes wear that extends into the outer rubber cover. Category 4 violations, in which part of the fabric or steel reinforcement ply is frayed, severed, or cut, made up 18 percent of the overall violations and put 277 North American CMVs out of service.
Brake Safety Day is a good reminder to drivers and carriers to make sure that they are regularly inspecting their equipment and repairing or replacing parts as needed. The annual week-long Brake Safety inspection event is scheduled for August 21-27.
This article was written by Jen Loomis of J. J. Keller & Associates, Inc.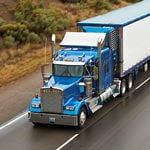 Looking for more on transportation safety?
Get the information and products you need to stay on top of industry changes and comply with regs.