Employers may terminate employees who pose threats
Posted June 11, 2021
Jayla had worked as a schoolteacher for over 15 years without incident. When she began her job, her father committed suicide triggering her own major depression. She continued to struggle with the condition.
At one point, in conversations with other teachers, Jayla allegedly threatened to kill herself and her son, who was a student where Jayla taught. She even described ways that she had considered killing herself and her son, including sedating him with Xanax (a sedative) so he would not know what was happening.
Jayla also allegedly made threats against school district administrators. She was removed from the school for safety reasons, but that same day she had a doctor's appointment, and her doctor indicated she could return.
After the appointment, Jayla indicated that it was her right to be able to kill her son. Since this statement was made after her appointment, the school was even more concerned for her son's safety.
Jayla was thereafter persuaded to undergo another evaluation, after which she was again cleared to return to work. Despite that clearance, Jayla was not allowed to return to work while an investigation continued. In response to being placed on administrative leave, Jayla claimed she was covered by the ADA. A few days later, the school district told Jayla that if she did not resign, she would be terminated. Instead of resigning, Jayla requested FMLA leave, which was granted.
While on leave, and after being cleared to work, Jayla allegedly threatened more coworkers. Because of the potential danger and safety concerns based on the threats and information that Jayla was over-medicating with Xanax at work, the school district did not renew her contract.
Jayla sued under the FMLA and the ADA, but the court sided with the employer/school district. It found that Jayla was terminated not because of her condition or need for leave, but because of the threats she made – a legitimate, nondiscriminatory reason for Jayla's nonrenewal.
Under the FMLA, the right to reinstatement is not absolute. Employers may deny it if the employee would have been terminated had she not been on FMLA leave, as was the case with Jayla. The school district had a legitimate reason for ending the employment, relieving it of its FMLA duty to reinstate Jayla.
In regard to the ADA, the court ruled that it "does not require an employer to retain an employee who it believes behaved in a threatening and dangerous way—even if the employee's [] disorder is one reason, or the sole reason, that the employee engaged in that behavior." Todd v. Fayette County School District, 11th Circuit Court of Appeals, No. 19-13821, May 27, 2021
This article was written by Darlene Clabault of J. J. Keller & Associates, Inc.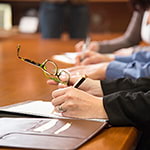 Looking for more on HR compliance?
Get the information and products you need to stay on top of industry changes and comply with regs.