NIOSH provides info on medication-assisted treatment for opioid disorder
Posted June 3, 2019
In a recent Workplace Solutions document published by the National Institute for Occupational Safety and Health (NIOSH), the Agency provided information for employers interested in assisting or supporting workers with opioid use disorder, in addition to providing general information about medication-assisted treatment (MAT).
NIOSH noted that the opioid crisis particularly affects industries with high injury rates and physically demanding working conditions such as construction, mining, or fishing. Job factors such as high job demands, job insecurity, and lack of control over tasks also have been linked to opioid use.
According to NIOSH, MAT has been shown to be effective for many people with opioid use disorder; the treatment uses FDA-approved medications in combination with counseling and behavioral therapies. NIOSH noted that when starting MAT, workers should avoid driving and hazardous work activities until dosages are stabilized, side effects are managed, and impairment risks related to the work are assessed. In addition, workers in safety-sensitive jobs may be subject to restrictions or limits on the tasks they can perform while using any of the medications.
NIOSH provided recommendations for employers on contributing to prevention and treatment of opioid use disorder, including:
Ensure work is safe, and conditions do not lead to injury or illness or contribute to painful chronic conditions;
Manage workplace stressors and job insecurity to the extent possible;
Take steps to decrease the stigma associated with substance abuse through awareness and supervisor training; and
Educate workers about how drugs impair work activities, including driving, and encourage them to notify their employers if they are taking medications that may affect their ability to work safely so that a safe solution can be determined.
---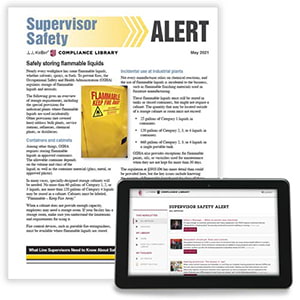 The J. J. Keller® Supervisor Safety Alert newsletter addresses key safety-related issues affecting supervisors and their employees.
---
J. J. Keller's FREE Workplace SafetyClicks™ email newsletter brings quick-read safety and compliance news right to your email box.