No ELD exemptions in Senate spending bill
Posted June 11, 2018
The Senate Appropriations Committee approved legislation on Thursday to fund the U.S. DOT for another year but, unlike the House version, left out any provisions related to rest breaks or electronic logging devices (ELDs).
The "FY2019 Transportation, Housing and Urban Development, and Related (THUD) Appropriations Act" authorizes $667 million in spending for the Federal Motor Carrier Safety Administration (FMCSA) through September 30, 2019, $1 million more than the House approved in May.
The two legislative bodies will now need to reconcile their spending bills and pass a final version before October.
The House version would:
Prohibit the FMCSA from enforcing the ELD mandate on livestock or insect haulers for an additional year;
Prohibit the FMCSA from enforcing its May 27, 2015, rule on the lease and interchange of passenger-carrying vehicles (which was already delayed until 2019 and is currently under review); and
Prohibit states from adopting additional meal or rest break requirements that go above and beyond what is required under federal hours-of-service rules.
Though these provisions are missing from the Senate bill, the Senate Appropriations Committee nevertheless is calling on the FMCSA to consult with the Department of Agriculture, the House and Senate, and other stakeholders on legislative solutions related to ELD usage by "drivers with unique working conditions."
Such drivers include those hauling live animals and agricultural commodities, especially cattle and fish.
"The Committee is concerned that the definition FMCSA uses for 'agricultural commodity' is outdated and does not include certain livestock such as farm-raised, ornamental, and bait fish," the Committee wrote.
Speed limiters
The Senate committee is also seeking action on the FMCSA's proposed rule to require speed limiters in heavy trucks.
Legislators asked the agency to "fully and expeditiously address all public comments" and adopt a speed-limiter rule that "address[es] the impact of creating speed differentials on highways and consider[s] the costs and benefits of applying the rule to existing heavy vehicles that are equipped with speed limiting devices."
Overall, the Senate bill authorizes $26.6 billion in discretionary spending for the U.S. DOT for FY2019, which is $698 million below this year's level and $1.2 billion below what the House has authorized.
This article was written by Daren Hansen of J. J. Keller & Associates, Inc.
---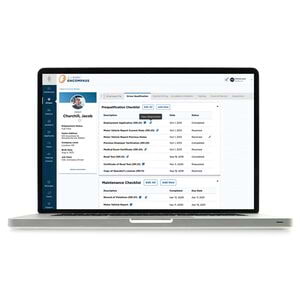 J. J. Keller® E-Logs - Compatible with iPad®, iPhone® and Android™ mobile devices. Affordable, flexible options from the nation's most respected transportation solutions provider.
---
J. J. Keller's FREE Transportation SafetyClicks™ email newsletter brings quick-read safety and compliance news right to your email box.