EEOC meeting highlights harassment prevention efforts
Posted June 13, 2018
Employers, legal scholars, and attorneys offered insights on workplace harassment prevention at an EEOC task force meeting in Washington, D.C., on June 11.
The EEOC's Select Task Force on the Study of Harassment in the Workplace reconvened after two years to hear from witnesses on "Transforming #MeToo Into Harassment-Free Workplaces."
They presented examples of efforts employers have used to prevent harassment, including:
Color coding. Wait staff at the restaurant Homeroom use a color-coded system to signal harassing behavior from a customer. This triggers specific action by a manager to address the situation.
Ombuds. This tech-enabled solution, created by tEQitable, aims to stop harassment with an independent, confidential platform to address issues of bias, discrimination, and harassment in the workplace.
The Power Shift Project. This solutions-based effort, presented by Jill Geisler, a fellow with the Newseum's Freedom Forum Institute, focuses on systematic changes needed to end harassment and promote opportunity in newsrooms and media organizations. There is a sense of urgency to fix the problem and create sustainable change, Geisler said.
Other witnesses addressed the legal and legislative side of the issue:
State action. More than 125 pieces of legislation relating to harassment prevention have been introduced in 32 states, said Suzanne Hultin with the National Conference of State Legislatures, and the issue is likely to continue to be a priority into next year.
Beyond sexual harassment prevention. Elizabeth Tippett, a professor at the University of Oregon School of Law, said it would be a mistake for legislatures and employers to limit their efforts to addressing sexual harassment, saying this would, "risk laying a foundation for the next crisis, whether it involves other forms of harassment, or discrimination and retaliation."
The issue of sexual harassment gained national attention last fall with high-profile cases and the emergence of the #MeToo movement. EEOC Commissioner Chai Feldblum said the task now is to build on the information offered by the EEOC's 2016 task force report on the issue and the momentum of #MeToo.
"We have a road map given the work we have done at the EEOC. We have the attention and commitment of the range of different actors in society that we need," she said. "Our challenge is to use this #MeToo moment well."
This article was written by Terri Dougherty, SHRM-CP, PHR, of J. J. Keller & Associates, Inc.
---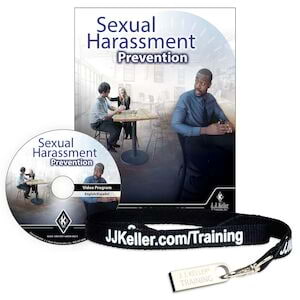 J. J. Keller's Sexual Harassment Prevention Training helps all employees learn how to address sexual harassment in the workplace.
---
J. J. Keller's FREE HRClicks™ email newsletter brings quick-read human resources-related news right to your email inbox.