American Heart Association says CPR training can be better
Posted June 22, 2018
A statement from the American Heart Association (AHA) says that better cardiopulmonary resuscitation (CPR) training could improve survival rates for cardiac arrest victims. The statement, released in the AHA's journal Circulation, addresses gaps in resuscitation training that lead to flat survival rates for cardiac arrest victims. According to the AHA, standardized online and in-person courses are "falling short" and are not always applied in a way that helps students remember or master the material.
New research suggests that shorter, more frequent learning sessions could improve CPR training. Other key elements for improvement include:
Practicing until learners demonstrate mastery of the subject and skills,
Using "real-world" training experiences recognized by learners,
Providing structured opportunities for reflection and feedback,
Measuring competency throughout the course using a variety of tools,
Exploring educational strategies such as gamification and social and digital platforms for better retention,
Providing continuous coaching and training of instructors, and
Localizing programs to fit learners' needs.
The AHA hopes to double survival rates from cardiac arrest to 38 percent in hospitals and 15.8 percent for out-of-hospital cases. In addition, the AHA wants to double bystander response to out-of-hospital cardiac arrest to 62 percent by 2020.
According to the AHA, this is the first time resuscitation specialists have applied education best practices to CPR training, or offered consolidated guidance to CPR instructors or content developers. The new approach can be used with students at all levels, from medical professionals to bystanders.
---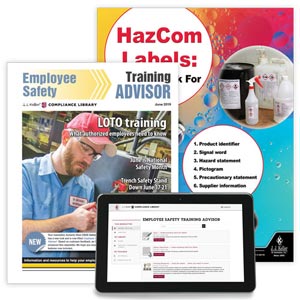 J. J. Keller's OSHA Safety Training Newsletter helps you improve your training techniques and meet OSHA requirements.
---
J. J. Keller's FREE Workplace SafetyClicks™ email newsletter brings quick-read workplace safety and compliance news right to your email box.