FMCSA pilot program to study split sleeper berth scenarios
Posted June 7, 2017
A pilot program, proposed by the Federal Motor Carrier Safety Administration (FMCSA), would allow temporary regulatory relief from the sleeper berth regulation for a limited number of commercial drivers who have a valid commercial driver's license (CDL) and regularly use a sleeper berth to accumulate the required 10 hours of non-duty work status.
According to a notice in the Federal Register, participants in the pilot will be given the option to split their sleeper berth time within parameters specified by FMCSA. Currently, any interstate driver who operates a property-carrying CMV equipped with a sleeper berth and uses the sleeper berth provision must take at least 8 consecutive hours in the sleeper berth, plus a separate 2 consecutive hours either in the sleeper berth, off duty, or any combination of the two, before returning to on-duty status.
Drivers operating under the exemption for this study would be allowed to use any combination of split sleeper periods, totaling 10 hours, with neither period being less than 3 hours, allowing for the driver to use splits of 3 and 7 hours, 4 and 6 hours, or two 5-hour periods.
FMCSA will collect data on the drivers during the pilot to determine safety performance and fatigue levels. The agency is seeking statistically reliable evidence to determine whether split sleeper berth time affects safety and fatigue.
Stakeholders wishing to submit comments on the proposed study must do so by August 7, 2017. The implementation date of the Pilot Program will be announced at a later date.
Interested parties may submit comments on the study (i.e., Federal Docket Management System Docket ID FMCSA-2016-0260) using any of the following methods:
Fax: (202) 493-2251.
Mail: Docket Operations, U.S. Department of Transportation, 1200 New Jersey Avenue SE., West Building, Ground Floor, Room W12-140, Washington, DC 20590-0001.
Hand Delivery or Courier: 1200 New Jersey Avenue SE., West Building, Ground Floor, Room W12-140, Washington, DC 20590 between 9 a.m. and 5 p.m., Monday through Friday, except federal holidays.
Further information will be posted at sleeperberthstudy.com.
---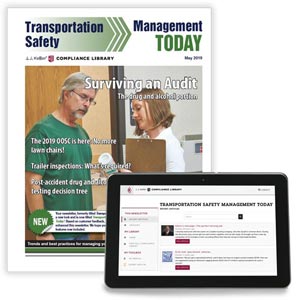 J. J. Keller's Transport Safety Pro Advisor helps you stay on top of the latest regulatory and non-regulatory issues affecting the motor carrier industry.
---
J. J. Keller's FREE Transportation SafetyClicks™ email newsletter brings quick-read safety and compliance news right to your email box.