Certain job factors influence workers' perceptions of their health, study finds
Posted June 2, 2017
Occupation, lack of paid sick leave, and multiple psycho-social factors are related to workers' own perceived low health status, according to a study by researchers at the National Institute for Occupational Safety and Health (NIOSH).
The study found that workers employed in business operations jobs, such as marketing or human resource professionals, were more likely to rate their health as fair or poor. The study also found workers who had no paid sick leave, worried about becoming unemployed, had difficulty balancing work and family, or who were bullied at work were more likely to report poor health.
Although workers in production occupations were most likely to report fair or poor health when only occupation was considered, once these results were adjusted for sociodemographic factors such as age, race, family income, etc. workers in the business operations profession were 85 percent more likely to report fair or poor health compared with workers in all other occupations.
Additional findings include:
Workers with no paid sick leave were 35 percent more like likely to report fair or poor health;
Workers who were worried about becoming unemployed were 43 percent more like likely to report fair or poor health;
Workers who reported difficulty combining work and family were 23 percent more likely to report fair or poor health; and
Workers who reported being bullied at work were 82 percent more likely to report fair or poor health.
The additional study findings, the authors said, point to the effect specific job characteristics may have on health compared to occupation alone. Work is an important determinant of health. The influence of work on a person's health manifests in various ways, such as:
Employment conditions;
How the work is organized;
Specific job-related tasks;
Exposures to hazardous agents; and
Long work hours.
Work-life balance takes on a whole new meaning when these issues are perceived by the workers themselves as having a negative effect on their well-being.
About the research
NIOSH researchers analyzed data from 10,767 adults employed across many occupations who participated in the 2010 National Health Interview Survey. Respondents were asked open ended questions about their employment status and features of their job. The study considered five categories of job characteristics: occupation, type of pay and job benefits, work organization, chemical/environmental hazards, and workplace psycho-social factors including job insecurity, a hostile work environment, and work-life imbalance. Study participants also were asked to rate their health on a scale of excellent to poor, a measure known as self-rated health. Researchers found significant associations between the respondent's self-rated health and job characteristics from each of the five categories.
---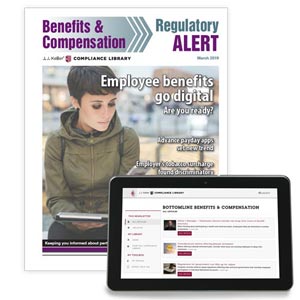 J. J. Keller's BottomLine Benefits & Compensation is an 8-page, monthly newsletter that addresses key issues relating to benefits and compensation programs.
---
J. J. Keller's FREE HRClicks™ email newsletter brings quick-read human resources-related news right to your email inbox.