Oregon OSHA adopts rules on high heat, wildfire smoke
Posted May 13, 2022
Oregon OSHA has adopted rules to protect workers from the hazards of high heat and wildfire smoke. The rules take effect June 15 for heat and July 1 for wildfire smoke, and build on temporary emergency requirements that were adopted in summer 2021 following several months of stakeholder and community engagement.
The heat rule addresses access to shade and cool water, preventive cool-down breaks, and prevention plans, information, and training. The wildfire smoke rule includes an array of exposure assessments and controls, and training and communication. Both rules encompass initial protective measures for workers who rely on employer-provided housing, including as part of farm operations.
This article was written by Rachel Krubsack of J. J. Keller & Associates, Inc.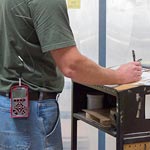 Looking for more on workplace safety?
Get the information and products you need to stay on top of industry changes and comply with regs.