FMCSA issues emergency declaration in response to baby formula shortage
Posted May 25, 2022
A shortage of baby formula has prompted the Federal Motor Carrier Safety Administration (FMCSA) to declare a temporary exemption from hours-of-service limits for truck drivers transporting formula or related supplies.
The exemption from the limits in 49 CFR 395.3 applies to drivers transporting baby formula, ingredients for the production of baby formula including (but not limited to) whey, casein, corn syrup, and hydrolyzed protein, and containers and packaging for baby formula anywhere in the United States.
Not covered by the exemption are routine deliveries, including mixed loads with a minimal quantity of baby formula or supplies.
The baby formula shortage comes in the wake of the unexpected closure of a baby formula manufacturing facility after it had to recall its products over contamination concerns.
The exemption went into effect on May 23 , 2022, and remains in effect until the end of the emergency (as defined in 49 CFR 390.5) or until 11:59 P.M. (ET), June 30, 2022, whichever is earlier.
This article was written by Jen Loomis of J. J. Keller & Associates, Inc.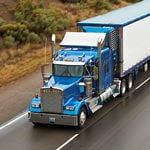 Looking for more on transportation safety?
Get the information and products you need to stay on top of industry changes and comply with regs.