FMCSA announces final hours-of-service rule changes
Posted May 14, 2020
The Federal Motor Carrier Safety Administration (FMCSA) has announced four significant changes to the hours-of-service rules for interstate truck and bus drivers.
The changes offer drivers greater flexibility and will go into effect in late September, roughly four months after they get published in the Federal Register in coming days.
"America's truckers are doing a heroic job keeping our supply chains open during this unprecedented time and these rules will provide them greater flexibility to keep America moving," said U.S. Transportation Secretary Elaine L. Chao.
The changes include:
Revisions to the 30-minute break rule for truck drivers so they can remain "on duty" for their breaks and do not have to take a break until completing eight hours of driving. Under current rules, drivers must get 30 minutes off duty if they want to drive beyond the eighth consecutive hour of their workday.
Revisions to the sleeper-berth exception to allow truck drivers to split their required 10 hours off into two periods, one being at least seven hours in a sleeper berth and the other being at least two hours off (e.g., a 7/3 or 8/2 split). In addition, neither rest period will count against the driver's 14-hour driving window.
Changes to the "adverse driving conditions" exception to extend by two hours, the maximum window during which driving is permitted when a driver encounters unexpected weather or traffic conditions. For truck drivers, this means the exception will allow up to 13 hours of driving within a 16-hour window of time. Bus drivers will be allowed up to 12 hours of driving within a 17-hour on-duty period.
Revisions to the 100-air-mile short-haul exception to lengthen the maximum on-duty period from 12 to 14 hours and extend the distance limit within which the driver may operate from 100 air miles to 150 air miles.
Not included in the changes was a proposal to allow truck drivers to extend their 14-hour driving window by up to three hours using a rest break. Such a change was not justified, said FMCSA Acting Administrator Jim Mullen during a May 14 conference call.
The FMCSA began proposing major changes to the hours-of-service rules in 2018. The final changes were adopted after the agency reviewed more than 8,000 public comments.
The agency claims that the final rule will save nearly $274 million annually for the U.S. economy and American consumers.
This article was written by Daren Hansen of J. J. Keller & Associates, Inc.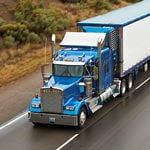 Looking for more on transportation safety?
Get the information and products you need to stay on top of industry changes and comply with regs.