President proposes updated immigration system
Posted May 22, 2019
President Trump unveiled his immigration proposal that could, if passed, have impacts on U.S. employers, particularly those that rely on immigrants to fill positions.
Highlights of the proposed changes include the following:
Try to stop illegal immigration and secure the U.S. border.
Remove incentives for smuggling women and children.
Restore the integrity of the asylum system by screening out the meritless claims.
Update the immigration process.
Increase the proportion of highly skilled immigration from 12 percent to 57 percent, to help and make the U.S. more competitive.
Create a more competitive and fair position of 57 percent employment and skill, 33 percent family, and 10 percent humanitarian.
Every year, 1.1 million immigrants are admitted as permanent legal residents. These green card holders get lifetime authorization to live and work here and a five-year path to citizenship. Currently, 21 percent of immigrants are issued entry by random lottery, which results in employers not being allowed to give preference to highly trained individuals from around the world. Instead, the immigration rules can result in preventing employers from retaining highly skilled people.
Approximately 70 percent of the immigrants who come to the U.S. are admitted based on family relationships or through the visa lottery. The plan would not change the number of green cards allocated each year. Instead of allowing individuals in through random chance, the plan would establish universal criteria for admission, replacing the existing green card categories with a new Build America visa. This new visa would select immigrants based on a point system and would feature three high-skill categories:
Extraordinary talent
Professional and specialized vocations
Exceptional academic track records
Priority will also be given to higher-wage workers.
Immigrants would get more points if they are younger workers, have a valuable skill, an offer of employment, an advanced education, or a plan to create jobs. Immigrants would also be required to learn English and to pass a civics exam prior to admission.
These new provisions could help employers recruit and retain talent, particularly in the current tight employment environment.
Even though the last major overhaul of our legal admissions policy was 54 years ago, this plan could have a challenge getting through Congress.
This article was written by Darlene M. Clabault, SHRM-CP, PHR, CLMS, of J. J. Keller & Associates, Inc.
---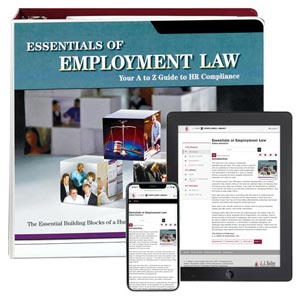 J. J. Keller's Essentials of Employment Law Manual covers more than 100 vital HR topics, including FMLA, ADA, HIPAA, FLSA, COBRA and more.
---
J. J. Keller's FREE HR SafetyClicks™ email newsletter brings quick-read safety and compliance news right to your email box.
Sign up to receive HR SafetyClicks™.