New Jersey joins the paid sick leave bandwagon
Posted May 4, 2018
As promised, on May 2, 2018, Governor Phil Murphy signed the New Jersey Earned Sick and Safe Days Act into law. It is one of the most expansive paid sick leave programs in the nation, joining the ever-growing number of states – nine plus the District of Columbia – that have enacted paid sick leave for eligible employees. The legislation, A1827, covers all private employers with employees in the state. It applies to all employees, except those in the construction industry working under a collective bargaining agreement, per diem healthcare employees, and public employees who already have sick leave benefits.
The law allows employees to accrue one hour of earned sick leave for every 30 hours worked, up to 40 hours each year. Employers may front-load the leave at the beginning of the year. Employers may limit accrual and carry over to 40 hours of paid sick leave.
Employees may use paid sick leave for the following:
Diagnosis, treatment, or recovery from a mental or physical illness or injury, or preventive care, for the employee or a family member
Obtaining services if the employee or a family member is a victim of domestic or sexual violence
Circumstances arising from a public health emergency
A school-related meeting or event with regard to the employee's child
Family members include children, grandchildren, siblings, spouses, domestic partners, civil union partners, parents, or grandparents, spouses of parents or grandparents, brothers- or sisters-in-law, or anyone else related to an employee by blood or close associate equivalent to a family relationship.
The law is effective October 30, 2018, at which point employees may begin accruing leave, and employees may begin using the accrued leave 120 calendar days later. After that, employees may use accrued leave as soon as it is accrued.
If employers already provide for paid sick leave that meets the law's requirements, they need not provide for more. Employers may choose the increments in which employees use the leave, provided that the largest increment is the number of hours the employee was scheduled to work during a shift.
Employees may be required to provide seven days' advance notice when leave is foreseeable. Otherwise, employees are to provide notice as soon as practicable. Employers would need to notify employees of this requirement. Employees may also be required to provide reasonable documentation for leaves of three or more consecutive days.
Employees are to be paid at the same rate they normally earn.
Employers will need to post a notice of the employee rights under the law, and place it where employees can access it. They also need to provide notice to each employee upon hire, and when an employee first requests leave.
This article was written by Darlene M. Clabault, SHRM-CP, PHR, CLMS of J. J. Keller & Associates, Inc.
---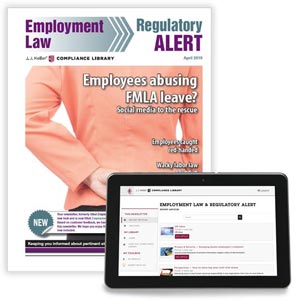 J. J. Keller's Employment Law Today newsletter explains why you need to care, what you need to do and how your business could be affected by HR industry news.
---
J. J. Keller's FREE HRClicks™ email newsletter brings quick-read human resources-related news right to your email inbox.