OSHA defending right to expand inspection based on injury records
Posted May 1, 2017
OSHA recently filed a brief with an appellate court to argue that injuries and illnesses noted on recordkeeping logs give Compliance Safety and Health Officers (CSHOs) the necessary "reasonable suspicion" to expand an inspection. In other words, OSHA argues that the fact that certain injuries/illnesses occurred is a strong indication that violative conditions exist sufficient for the agency to obtain a warrant.
The case began on February 4, 2016, when a Georgia poultry industry employer reported the hospitalization of an employee resulting from an accident the night before. The accident involved several of the sixteen hazards listed in an OSHA Regional Emphasis Programs for Poultry Processing Facilities (REP).
OSHA initiated an inspection related to the injury report, during which time inspectors reviewed injury and illness logs from the employer. Based on findings from the review, OSHA decided to expand its inspection to cover all hazards in the OSHA REP, even though these were not related to the incident. The company objected to the expanded inspection. OSHA obtained a warrant to proceed. However, the company filed a motion, which was ultimately upheld by the district court, with a magistrate judge to have the warrant quashed. The court sided with the company, saying that the warrant was improper for all 16 hazards, and could only be obtained for the hazards related to the incident that prompted the original inspection.
OSHA has filed an appeal of the district court's ruling, arguing primarily that a site's injury and illness records should be adequate to provide a reasonable suspicion of probable violations of the OSHA regulations. In other words, injury logs showing musculoskeletal disorders should be sufficient to show there are probable violations of the OSH Act's General Duty Clause sufficient to obtain a warrant. Note: The case focuses on grounds for obtaining an inspection warrant, not grounds for proving a violation.
The appeal is currently being heard. The outcome of the case could have substantial impact on OSHA's ability to expand inspections, particularly related to emphasis programs. The case also will determine how OSHA inspectors may use injury and illness logs as a means for directing an inspection.
Whatever the ultimate outcome, many may find it surprising that the current OSHA administration is pushing the issue and mounting a defense. Up to this point, the Agency has been lax to carry over prior administration legal fights, for example, cases in Texas and Oklahoma related to the recent electronic reporting rule.
---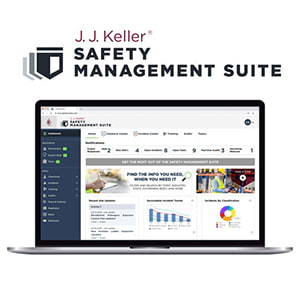 The J. J. Keller® Safety Management Suite, formerly KellerOnline®, provides safety professionals with the tools and applications to help drive performance, reduce risk, and ensure compliance.
---
J. J. Keller's FREE Workplace SafetyClicks™ email newsletter brings quick-read workplace safety and compliance news right to your email box.