American Health Care Act passes the House
Posted May 8, 2017
By a narrow margin (217-213), a bill intended to revise provisions of the Affordable Care Act (ACA) passed the House of Representatives on Thursday, May 4. The previous version of this bill, the American Health Care Act (AHCA), was pulled from consideration by Republican leaders in March.
From here, the bill goes to the Senate, where it will likely undergo further changes.
What's in the House version?
The version that was successful in the House on Thursday included $8 billion in funding to help cover insurance costs for people with preexisting conditions, an amendment which helped swing votes from moderate republicans.
It also included provisions to allow states to opt out of:
Providing the ACA's essential health benefits.
Requiring premiums to be the same for all people of the same age. This means that individuals with preexisting conditions may not be denied coverage, but the cost of their coverage could be considerably higher (a cost that could be subsidized by the aforementioned $8 billion).
If the bill were to pass in its current form, employers in states that opt out of the requirement to cover essential health benefits could change their plan coverage for certain benefits.
The bill would also:
Increase health savings account (HSA) contribution limits to match maximum out-of-pocket costs,
Remove the annual limit on flexible spending account (FSA) contributions,
Cut back Medicaid expansion, and
Delay the Cadillac tax from 2020 until 2025.
What remains?
The AHCA has been described as a bill that will "repeal and replace" the Obama-era ACA, but in its current form, the bill preserves many major components of the ACA, including:
Lifetime and annual limits,
Dependents' ability to stay on their parents' health plans until age 26,
State and federal exchanges (health insurance marketplaces), and
The availability of subsidies for premiums based on income (though the formula to determine subsidies would change).
The current bill also retains both the individual and employer mandates (requiring employers to provide and individuals to have coverage). However, the bill sets the penalty for noncompliance for both employers and individuals to zero, which seems to effectively remove the mandates. To incentivize individuals to maintain coverage, however, the bill would allow insurers to charge up to 30 percent more for coverage after a period of not having coverage.
It's only halftime
While employers would do well to keep an eye on this bill, the Senate and the House ultimately need to agree on the same version for the bill before it can become law.
Members of the Senate have indicated that amendments will be necessary; some have even indicated a need to start from scratch on the bill. If Senate Republicans were to pass their own version, it would then need to be reconciled with the House version.
---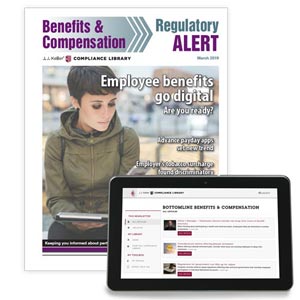 J. J. Keller's BottomLine Benefits & Compensation is an 8-page, monthly newsletter that addresses key issues relating to benefits and compensation programs.
---
J. J. Keller's FREE HRClicks™ email newsletter brings quick-read human resources-related news right to your email inbox.