The ADA in the COVID-19 era
Posted April 22, 2020
Picture, if you will, Supervisor Sam who was just informed by Joe Employee, that Joe has tested positive for COVID-19. Supervisor Sam wants to take all practical measures to keep the workplace safe. Because of this, he wants to inform the rest of the workers that the disease has made its way into their facility, and what steps the company will take to mitigate the effects going forward. While informing the rest of the workforce of this development, Carol Coworker asks Sam who, in particular, has tested positive. What should Sam do?
While Sam may take many steps to help deal with the situation, he (and the employer in general) is required, under the Americans with Disabilities Act (ADA), to keep employee (and applicant) medical information confidential. This means that Sam should not identify that Joe was the one who tested positive.
The ADA does not, however, interfere with or prevent employers from following the guidelines and suggestions made by the CDC or state/local public health authorities about steps employers should take regarding COVID-19. But employers still need to comply with the applicable provisions of the ADA.
Steps to help mitigate
While keeping medical information confidential, there are steps employers can take to keep the workplace safe, such as the following:
Ask about symptoms: During a pandemic, ADA-covered employers may ask employees if they are experiencing symptoms of the pandemic virus. Employers must maintain all information about employee illness as a confidential medical record in compliance with the ADA.
Take employee temperatures: Generally, measuring an employee's body temperature is a medical examination. Because the CDC and state/local health authorities have acknowledged community spread of COVID-19 and issued attendant precautions, employers may measure employees' body temperature. However, employers should be aware that some people with COVID-19 do not have a fever.
Send sick employees home: The CDC states that employees who become ill with symptoms of COVID-19 should leave the workplace. The ADA does not interfere with employers following this advice.
Require a doctor's not certifying fitness for duty before retuning to work: Such inquiries are permitted under the ADA either because they would not be disability-related or, because the pandemic is truly severe. As a practical matter, however, health care professionals may be too busy during and immediately after a pandemic outbreak to provide fitness-for-duty documentation. Therefore, new approaches may be necessary, such as reliance on local clinics to provide a form, a stamp, or an e-mail to certify that an individual does not have the virus.
The ADA's requirement to provide reasonable accommodations to employees also continues during a pandemic. Therefore, if an employee, for example, has a preexisting mental condition that has been exacerbated by the COVID-19 pandemic, he may now be entitled to a reasonable accommodation absent undue hardship.
Although many people feel significant stress due to the COVID-19 pandemic, employees with certain preexisting mental health conditions, for example, anxiety disorder, obsessive-compulsive disorder, or post-traumatic stress disorder, may have more difficulty handling the disruption to daily life that has accompanied the COVID-19 pandemic.
As with any accommodation request, employers may ask questions to determine whether the condition is a disability; discuss with the employee how the requested accommodation would assist him and enable him to keep working; explore alternative accommodations that may effectively meet his needs; and request medical documentation if needed.
This article was written by Darlene Clabault of J. J. Keller & Associates, Inc.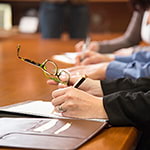 Looking for more on HR compliance?
Get the information and products you need to stay on top of industry changes and comply with regs.