OSHA Region 7 launches noise enforcement initiative
Posted March 18, 2022
OSHA's Kansas City regional office has established a Regional Emphasis Program (REP) to target inspections of general industry and construction workplaces at high risk of noise exposure and to raise awareness among Kansas, Missouri, and Nebraska employers of noise hazards and required safety measures.
Following its three-month outreach that began February 28, the OSHA will schedule and inspect select general industry and construction employers in Kansas, Missouri, and Nebraska with hearing loss rates higher than the national average.
In the REP's initial phase, OSHA will send information to employers, professional associations, local safety councils, apprenticeship programs, local hospitals, and occupational health clinics. In addition, agency representatives will make presentations to industry organizations and stakeholders. The REP will also encourage employers to use OSHA's free consultation services to help them implement noise safety strategies and ensure compliance with OSHA standards.
This article was written by Rachel Krubsack of J. J. Keller & Associates, Inc.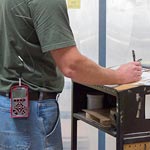 Looking for more on workplace safety?
Get the information and products you need to stay on top of industry changes and comply with regs.