EPA proposes changes to heavy-duty engine, vehicle standards
Posted March 30, 2022
EPA has published a proposed rule that would reduce air pollution from highway heavy-duty vehicles and engines, including ozone, particulate matter, and greenhouse gases (GHGs). The proposal would change the heavy-duty emission control program—including the standards, test procedures, useful life, warranty, and other requirements— to further reduce the air quality impacts of heavy-duty engines across a range of operating conditions and over a longer period of the operational life of heavy-duty engines.
The proposal also would:
reduce emissions of nitrogen oxides and other pollutants;
make targeted updates to the existing Heavy-Duty Greenhouse Gas Emissions Phase 2 program; and
make limited amendments to the regulations that implement EPA's air pollutant emission standards for other sectors (e.g., light-duty vehicles, marine diesel engines, locomotives, various types of nonroad engines, vehicles, and equipment).
Comments on the proposed rule must be submitted by May 13, 2022, at regulations.gov; search for Docket ID No. EPA–HQ– OAR–2019–0055.
This article was written by Rachel Krubsack of J. J. Keller & Associates, Inc.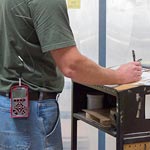 Looking for more on workplace safety?
Get the information and products you need to stay on top of industry changes and comply with regs.