OSHA eases enforcement of annual respirator fit-testing requirements for healthcare providers
Posted March 17, 2020
OSHA has issued temporary enforcement guidance to its Compliance Safety and Health Officers (CSHOs) easing enforcement of the annual fit-testing requirements of the respiratory protection standard – specifically for the healthcare industry – due to supply shortages of N95 respirators. The guidance took effect March 14 and remains in effect until further notice.
OSHA says its field offices will exercise enforcement discretion concerning the annual fit-testing requirement at 29 CFR 1910.134(f)(2), as long as healthcare employers:
Make a good-faith effort to comply with 29 CFR 1910.134;
Use only NIOSH-certified respirators;
Implement CDC and OSHA strategies for optimizing the supply of N95 respirators and prioritizing their use;
Perform initial fit tests for each healthcare provider (HCP) with the same model, style, and size respirator that the employee will be required to wear;
Inform employees that they are temporarily suspending the annual fit-testing of N95 respirators to preserve and prioritize the supply for situations where their use is required;
Explain to employees the importance of performing a fit check with each use to ensure an adequate seal;
Conduct a fit test if they observe changes in an employee's physical condition that could affect respirator fit and explain to employees that, if their face shape has changed since their last fit test, they may no longer be getting a good facial seal and are not being adequately protected; and
Remind employees to inform their supervisor or their respirator program administrator if the integrity and/or fit of their N95 respirator is compromised.
This article was written by Rachel Krubsack of J. J. Keller & Associates, Inc.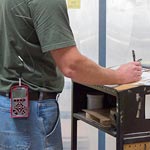 Looking for more on workplace safety?
Get the information and products you need to stay on top of industry changes and comply with regs.