Do you need to pay employees volunteering at a company-sponsored program?
Posted March 19, 2019
Many employers like to give back to their communities, and many employees (and applicants) prefer working for companies with a social conscience that provide opportunities to lend a hand. Some of these community service programs could include Habitat for Humanity, Feeding America, local food pantries, or literacy programs just to name a few. But even good Samaritan efforts need some considerations, including questions regarding paying wages.
What the DOL says
The U.S. Department of Labor received related questions and provided answers in a March 14 Opinion Letter. The questions and answers were as follows:
Q: Do we need to pay employees while they are participating in an optional company-sponsored volunteer service program?
A: A person is ordinarily not an employee under the Fair Labor Standards Act (FLSA) if the individual volunteers without contemplation or receipt of compensation. Of course, the volunteer must offer his or her services freely without coercion or undue pressure — direct or implied — from the employer. If, for example, an employee would receive a monetary penalty for not participating, the situation would not be considered truly voluntary. Therefore, as long as there are no ramifications if an employee chooses not to participate, the time spent volunteering need not be paid.
Q: What if the hours an employee works on community service are outside normal working hours?
A: Employees also need not be paid if they participate in voluntary community service programs outside their normal work hours.
Q: What if the number of volunteer hours is used to determine a bonus for groups of employees, and the group leader determines what portion of the bonus each employee received?
A: You may use an employee's time spent volunteering as a factor in calculating whether to pay a bonus, without incurring an obligation to treat that time as hours worked as long as the following are met:
Volunteering was optional,
Not volunteering will have no adverse effect on the employee's working conditions or employment prospects, and
The employee is not guaranteed a bonus for volunteering.
Bonuses awarded to groups with the most community impact, with the group's leader having the discretion to determine what amount of the bonus, if any, to award individual employees in the group, are fine. No one employee is guaranteed a bonus based on participation. Therefore, such participation need not be counted as hours worked under the FLSA, as long as the employer does not unduly pressure employees to participate.
This article was written by Darlene M. Clabault, SHRM-CP, PHR, CLMS, of J. J. Keller & Associates, Inc.
---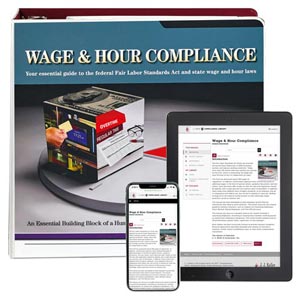 J. J. Keller's Wage and Hour Compliance with FLSA Manual provides critical info to help you comply with the Fair Labor Standards Act (FLSA) and state wage and hour laws.
---
J. J. Keller's FREE HR SafetyClicks™ email newsletter brings quick-read safety and compliance news right to your email box.