Death of a pet: FMLA or not?
Posted March 16, 2018
While the headline might elicit a resounding initial response of "no," it might just be possible (in a stretch) that the death of a pet results in FMLA leave, but it's not something you should expect.
Case in point
On May 27, Noah, an employee, called his supervisor and asked for a day of vacation because he was very upset about having had to put his dog of 13.5 years to sleep. He did not tell his supervisor how upset he was about losing his dog or that he had not been able to sleep since the dog had died. Noah was granted the vacation day.
The next day, he called again, telling his supervisor that he had not slept for days because of his dog's demise and, therefore, could not work that day. The day off was granted, and Noah used that time to set up a May 29 appointment at a clinic because of his lack of sleep.
The company had a policy whereby employees accruing eight attendance points during the year were subject to termination. While the employee was not assessed a point for his May 27 absence as it was vacation, he was assessed one for his May 28 absence. Noah had been assessed other points in the past, as well.
On May 29, Noah returned to work, and after his shift, he had a clinic visit appointment. The health care provider gave Noah an excuse from work for May 28 for situational insomnia, and the note was dated May 29. Noah provided the note to his employer that same day. He was initially told his May 28 absence would be excused. Later, however, he was asked to have the note backdated to May 28 — the date he was actually absent.
Soon thereafter, he received a final written warning advising him that he had accrued 6.5 absence points.
Later that year, Noah needed more leave for a back injury and the employer assessed him more absence points bringing his total to eight. Therefore, he was terminated. He sued, arguing that his May 28 absence should have been FMLA because it was the result of situational insomnia brought about by, in part, the passing of his dog. If it had been, he would not yet have reached the eight-point threshold.
The court found that Noah did not provide sufficient notice to his employer of his need for FMLA leave, since he first asked for vacation, never mentioned how long he had been incapacitated (insomnia), or never mentioned any continuing treatment. Then he simply asked for time off because he was upset about his dog. Neither was enough to put the employer on notice of the need for FMLA leave.
Employees generally need to provide at least a minimum amount of information to put an employer on notice of the need for leave. If they don't, the employer's FMLA obligations are not triggered.
If Noah were to have told his employer that his insomnia lasted for many nights, and that he was under a doctor's care after an initial visit, his absences could have been FMLA leave, brought on because of his dog's demise. The loss of a pet can result in an individual's serious health condition, such as anxiety, depression, etc. The cause of a condition is not the determining factor whether someone has a serious health condition.
Buck v. Mercury Marine, E.D. Wisconsin, No. 16-cv-1013, December 22, 2017.
---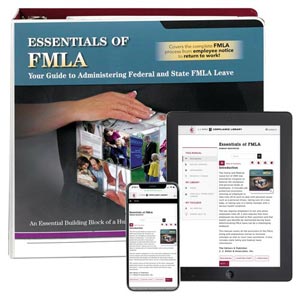 J. J. Keller's Essentials of FMLA manual helps HR pros understand and comply with the FMLA rules, control costs related to leave taken, and minimize the law's potential disruption to their organizations' operations.
---
J. J. Keller's FREE HRClicks™ email newsletter brings quick-read human resources-related news right to your email inbox.