CVSA Roadcheck coming in May
Posted February 18, 2022
The Commercial Vehicle Safety Alliance (CVSA) has announced that the 2022 International Roadcheck will be held on May 17-19 and that the focus will be wheel ends.
For 72 hours, inspectors in the United States, Mexico, and Canada will perform inspections on commercial motor vehicles (CMVs) at weigh stations and inspection sites as well as on roving patrols.
Wheel ends include all components found at the end of each axle, including tires, wheels, rims, hubs, etc., and have been a common problem area in previous inspections. CVSA reports that wheel ends are often in the top 10 list of violations and that problems with wheel ends have accounted for about 25 percent of vehicle out-of-service violations discovered during Roadcheck in the past.
After passing an inspection, a CVSA decal is placed on the vehicle, which is valid for three months and generally prevents CVSA from performing another inspection on that vehicle during that time period.
This article was written by Jen Loomis of J. J. Keller & Associates, Inc.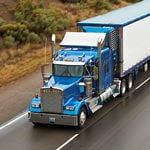 Looking for more on transportation safety?
Get the information and products you need to stay on top of industry changes and comply with regs.