Independent contractors, truck drivers get traction on road to employee pay, benefits
Posted February 26, 2021
On February 19, 2021, the U.S. Department of Labor's (DOL) Wage and Hour Division (WHD) announced it withdrew two opinion letters: FLSA2019-6 and FLSA 2019-10.
These letters addressed policies under the Fair Labor Standards Act (FLSA) regarding independent contractors and paying truck drivers for their time in a sleeping berth.
Here are recaps of the withdrawn opinion letters:
Independent Contractors (FLSA2019-6; issued April 2019; withdrawn February 2021) This letter said that gig workers who used smartphone apps to find work (like ride-hailing service drivers) were independent contractors and not employees — meaning they weren't entitled to employee benefits/protections like minimum wage, overtime pay, and benefits.
Truck Drivers (FLSA 2019-10; issued July 2019; withdrawn February 2021) This letter said that a trucker driver did not have to be paid for time in a sleeping berth, assuming the driver was relieved of all duties — making compensation rules more cut and dried for motor carriers. Before this letter was issued, carriers had to factor in whether "adequate facilities" for sleep were furnished and how much sleeping time could be unpaid.
What does this mean for employers?
Employers can no longer refer to these withdrawn letters for guidance. Although opinion letters aren't binding regulations, they provide employers with real-life examples that they can point to if they must defend employment actions in court.
Withdrawing the independent contractor letter aligns with the WHD's recent decision to postpone the effective date of the federal independent contractor final rule. The final rule was slated to go into effect in March but was postponed to May 7, 2021. The Biden administration wanted additional time to review and consider the final rule.
The DOL said that opinion Letter FLSA2019-10 was inconsistent with longstanding WHD interpretations about paying drivers for time spent in a truck's sleeper berth. Several courts have declined to follow this letter because it was inconsistent with the DOL's regulation.
This article was written by Michelle Higgins of J. J. Keller & Associates, Inc.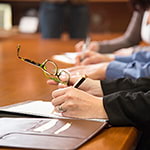 Looking for more on HR compliance?
Get the information and products you need to stay on top of industry changes and comply with regs.