Flexibility Ranked First in Workplace Perks
Posted February 26, 2018
When it comes to office perks, employees say the ability to set their own schedules improves their workplace satisfaction more than any other option, according to a new survey from Clutch, a Washington D.C.-based market research firm. Forty-one percent of employees ranked flexible scheduling above all other workplace perk options, including professional development, work-from-home abilities, fitness/health options, and food/snacks.
The 2018 survey found that workplace perks, which the firm defines as employee benefits that have more of an impact on the culture than on the bottom line, help employers build a stronger relationship with workers. This finding is supported by a 2016 joint study from MIT and the University of Minnesota, which found that employees with flexible scheduling options felt more supported by their bosses, reported greater job satisfaction, and were less burned out by workplace stress.
For companies that can support such flexibility, this kind of perk may feel like a natural fit. It can be inexpensive to offer while delivering a big impact on employee morale. But for companies whose success depends on delivering regular, measurable results (especially manufacturing, transportation, etc.), flexibility can feel out of reach.
While it may not always be possible to allow workers to set their own hours, the following considerations can still help structured workforces feel more freedom:
Offer split shifts, allowing employees to leave work in between hours to run errands, attend appointments, etc.
Ask employees when the best time for breaks would be, instead of forcing them to fit into a rigid, existing schedule.
Consider compressed workweeks in which employees work longer hours in fewer days, amounting to more days off without a loss in productivity.
Encourage shift trading to give employees a sense of freedom in their schedules when necessary.
Ultimately, employers of all kinds can take steps to incorporate flexibility into their cultures. Studies continue to show the importance of doing just that, from improved productivity to increased loyalty.
This article was written by Ann Potratz of J. J. Keller & Associates, Inc.
---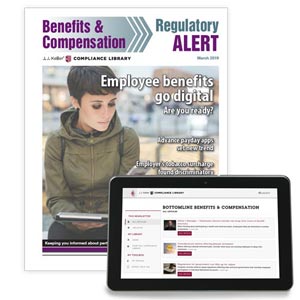 J. J. Keller's BottomLine Benefits & Compensation is an 8-page, monthly newsletter that addresses key issues relating to benefits and compensation programs.
---
J. J. Keller's FREE HRClicks™ email newsletter brings quick-read human resources-related news right to your email inbox.