OSHA "union rep" policy: Both sides see victory in recent ruling
Posted February 9, 2017
In a February 3, 2017, opinion, Sidney A. Fitzwater, U.S. District Judge for the Northern District of Texas, denied OSHA's motion to dismiss a case against it, but did agree with the Agency in part.
The judge sided with small business advocates on procedural issues, granting a motion to allow the advocates' lawsuit against OSHA to proceed.
At issue is a 2013 memorandum written by the Deputy Assistant Labor Secretary, Richard Fairfax, which effectively changed OSHA policy to allow union representatives to accompany OSHA field officers during safety and health inspections at non-union worksites. The so-called "Fairfax letter" was written to a union official who had asked whether a worker at a worksite without a collective bargaining agreement could authorize a union representative or community organization to act as his or her representative. The letter stated, "Although the regulation acknowledges that most employee representatives will be employees of the employer being inspected, it also makes clear that there may be times when the presence of an employee representative who is not employed by that employer will allow a more effective inspection. Thus, section 1903.8(c) explicitly allows walkaround participation by an employee representative who is not an employee of the employer when, in the judgment of the OSHA compliance officer, such a representative is "reasonably necessary to the conduct of an effective and thorough physical inspection." It is OSHA's view that representatives are "reasonably necessary" when they will make a positive contribution to a thorough and effective inspection."
The small business advocate organization National Federation of Independent Businesses (NFIB) sued OSHA over the memo, saying the Agency had effectively promulgated a new rule by letter and not through the regulatory process. In addition, the NFIB argued the policy contradicts the Administrative Procedure Act, and OSHA overstepped its statutory authority.
According to the NFIB, OSHA's policy "essentially authorizes union recruiters to enter workplaces against the employers' wishes."
In December 2016, OSHA asked the Court to dismiss the case, arguing the NFIB had not been directly injured by the memo. But the Court agreed with the NFIB, explaining that a company should not have to be harmed by a rule before it can mount a fight against it.
However, the judge also said that OSHA did not exceed its authority in issuing the memo, saying that the policy of allowing non-employees to accompany Compliance Safety and Health Officers during inspections is permitted by the Administrative Procedure Act. Therefore, the case going forward will focus on the procedural merits of the memo, and whether it created a rule outside of the required rulemaking process.
---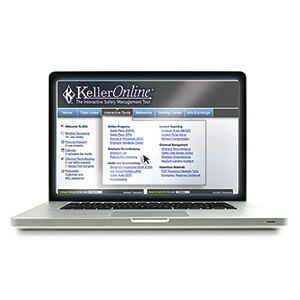 The KellerOnline® safety management tool is used by 19,000+ safety pros to help reduce accident rates and lower workers' comp costs.
---
J. J. Keller's FREE Workplace SafetyClicks™ email newsletter brings quick-read workplace safety and compliance news right to your email box.