Virginia adopts permanent COVID-19 standard
Posted January 28, 2021
Virginia has adopted the nation's first permanent COVID-19 standard, which takes effect January 27. The state's temporary standard, which took effect in July 2020, expired January 26.
Application of the standard to a place of employment will be based on the exposure risk level presented by SARS-CoV-2 virus-related and COVID-19 disease-related hazards present or job tasks undertaken by employees at the place of employment as defined in the standard at §25-220-30 (i.e., very high, high, medium, and lower risk levels).
By March 26, certain employers must develop a written Infectious Disease Preparedness and Response Plan and provide employee training. The training must enable employees to recognize the hazards of the SARS-CoV-2 virus and signs and symptoms of COVID-19; employees also must be trained in the procedures to be followed in order to minimize these hazards.
The written plan and training requirements apply to employers with hazards or job tasks classified in §25-220-30 of the standard as very high and high, and medium with 11 or more employees.
Like its temporary counterpart, the permanent standard requires all employers to mandate social distancing measures and face coverings for employees in customer-facing positions and when social distancing is not possible, provide frequent access to hand washing or hand sanitizer, and regularly clean high-contact surfaces.
This article was written by Rachel Krubsack of J. J. Keller & Associates, Inc.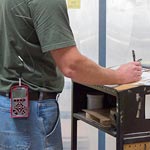 Looking for more on workplace safety?
Get the information and products you need to stay on top of industry changes and comply with regs.