COVID-19 legislation could impact labor law posters
Posted January 18, 2021
President-Elect Joe Biden's American Rescue Plan, released on January 14, has the potential to impact three labor law postings in 2021:
Minimum Wage
The plan looks to raise the federal minimum wage to $15 per hour. It would also eliminate the tipped minimum wage and the sub-minimum wage for people with disabilities.
It's been almost 12 years since the last federal minimum wage increase which was in July 2009 when it rose from $6.55 to $7.25 per hour.
Wage changes would bring a mandatory change to the Fair Labor Standards Act posting.
Paid Leave
The proposal includes an extension of emergency paid leave through September 30, 2021.
Employers of all sizes would be required to offer paid leave. Exemptions for large and small employers would be eliminated.
This could bring a new temporary posting requirement, similar to the Families First Coronavirus Response Act (FFCRA) posting requirement from 2020.
OSHA
The proposal calls for a new OSHA standard relating to COVID-19.
This could bring a temporary posting requirement or a recommended poster.
Timing
These proposals are all part of a single piece of legislation, which is likely to undergo many changes before passage. If the minimum wage, paid leave, and OSHA standard provisions make it through, it is likely that:
A minimum wage change will bring a mandatory federal posting change.
A paid leave posting requirement would be required through September 30.
A temporary OSHA posting relating to COVID-19 (which could be optional or required) will be released.
Impact
With COVID-19 related legislation likely to pass, employers should be ready for posting changes in 2021.
This article was written by Terri Dougherty of J. J. Keller & Associates, Inc.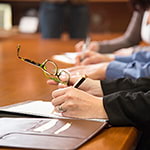 Looking for more on HR compliance?
Get the information and products you need to stay on top of industry changes and comply with regs.