Trucking companies granted temporary exemption from California independent contractor law
Posted January 7, 2020
Motor carriers have been granted a two-week stay of California's A.B. 5 independent contractor rule after a ruling from a federal judge.
A.B. 5 was set to take effect on January 1, 2020, but the judge blocked enforcement for motor carriers in a December 31, 2019, decision. The stay, requested by the California Trucking Association, was granted until at least January 13, 2020, when the court will consider a longer stay of enforcement.
A.B. 5 impacts the traditional owner-operator model used by many motor carriers and has been closely watched across the U.S. motor carrier industry. Affected carriers must decide between two choices, choosing whether they convert independent contractors to employees or move independent contractor operations out of the state.
Under A.B. 5, workers must meet three criteria to be considered an independent contractor. One of the criteria — that carrier drivers and independent drivers cannot generally provide the same services — is a major sticking point in the trucking industry.
In writing his opinion, U.S. District Judge Roger Benitez said the law would cause "imminent, irreparable harm," to carriers and owner-operators. "Without significantly transforming their operations to treat independent contracting drivers as employees for all specified purposes under California laws and regulations, they face the risk of governmental enforcement actions, as well as criminal and civil penalties."
This article was written by Dave Lubach of J. J. Keller & Associates, Inc.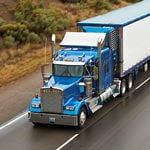 Looking for more on transportation safety?
Get the information and products you need to stay on top of industry changes and comply with regs.