NLRB reverses some pertinent decisions
Posted January 13, 2020
December was a busy month for the National Labor Relations Board (NLRB), as it issued a number of employer-friendly decisions. From quickie elections to use of email and other systems, the NLRB addressed the following issues, which are effective immediately unless otherwise indicated:
Effective April 16, 2020, the 2014 "quickie" collective bargaining election rules are reversed. In the 2014 ruling, the timeline between the filing of a petition and the election was shortened to eight days. The new rule expands that to 14 days. This gives employers more time to raise more issues before an election and the opportunity to campaign.
The NLRB overruled 2015 changes governing dues checkoff obligations when a collective bargaining agreement ends, restoring precedent that had been in place since 1962. The NLRB held that an employer's statutory obligation to check off union dues ends upon expiration of the collective-bargaining agreement containing the checkoff provision.
The NLRB went on to hold that work rules requiring confidentiality during the course of workplace investigations are presumptively lawful. In the past, employers had to prove, on a case-by-case basis, that the integrity of an investigation would be compromised without confidentiality. This improperly placed the burden on the employer to determine whether its interests in preserving the integrity of an investigation outweighed employee Section 7 rights, contrary to both Supreme Court and NLRB precedent.
Finally, the NLRB restored an employer's right to restrict employee nonwork use of its information technology and email systems to which those systems are put, as long as it does not discriminate against union or other protected concerted communications. In the past, the NLRB held that employees who had been given access to their employer's email system for work-related purposes had a presumptive right to use that system, on nonworking time, for communications.
The NLRB enforces the National Labor Relations Act (NLRA), which protects employees' freedom of association, self-organization, and designation of representatives of their own choosing, and to negotiate the terms and conditions of their employment or other mutual aid or protection. The NLRA applies to non-unionized workplaces as well as unionized ones.
This article was written by Darlene M. Clabault, SHRM-CP, PHR, CLMS, of J. J. Keller & Associates, Inc.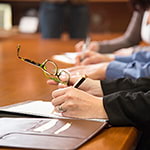 Looking for more on HR compliance?
Get the information and products you need to stay on top of industry changes and comply with regs.