Hotel owner knew about asbestos risks, exposed employees anyway: Washington L and I
Posted January 25, 2018
The Washington Department of Labor & Industries (L&I) cited a Seattle hotel owner for knowingly exposing workers to asbestos. According to the L&I, instead of hiring trained workers, the owner decided to cut corners. The hotel has been cited for 12 willful safety and health violations totaling $355,000 in fines for exposing those workers to asbestos hazards.
Asbestos, when inhaled, can cause cancer and other serious health problems. Removal and disposal of asbestos-containing building materials is required to be done by a certified abatement contractor.
The L&I issued a stop-work order to the hotel in July 2017 after an investigation discovered that asbestos removal was being done by workers who were not trained or certified to safely perform the work.
According to the L&I, during a lobby renovation at the hotel, an asbestos-abatement contractor discovered that much of the ceiling was originally constructed with cement-asbestos-board. The hotel owner knew about the issue, but didn't hire a firm qualified to do the work. Instead, the owner hired a roofing contractor with untrained employees – and didn't let them know the ceiling contained asbestos.
L&I cited the employer for exposing workers to asbestos, failing to provide respiratory protection, leaving asbestos debris on site, and other safety and health issues. The hotel owner was also cited for a willful-general violation for not taking a pre-removal air sample before removing the asbestos-materials.
The employer has 15 business days to appeal the citation.
In the state of Washington, money paid as a result of a citation is placed in the workers' compensation supplemental pension fund.
---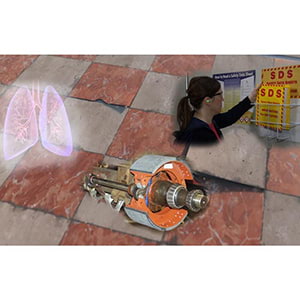 J. J. Keller's Asbestos Awareness Training covers the essentials of asbestos exposure and how to keep workers safe.
---
J. J. Keller's FREE Workplace SafetyClicks™ email newsletter brings quick-read workplace safety and compliance news right to your email box.