Natural gas processing facilities may soon report chemical releases to TRI
Posted January 12, 2017
EPA is proposing to add natural gas processing (NGP) facilities to the field of industrial sectors required to report under the Toxics Release Inventory (TRI) program.
The proposed rule, published January 6, 2017, in the Federal Register, would expand coverage to all facilities that receive and refine natural gas. However, certain natural gas facilities, such as those that primarily recover sulfur from natural gas, are already covered under the TRI program. In addition, facilities that are primarily engaged in natural gas extraction (e.g., exploration, fracking, etc.) are not included in the proposed rule.
According to EPA, NGP facilities in the U.S. manufacture, process, or otherwise use more than 21 different TRI-listed chemicals, including n-hexane, hydrogen sulfide, toluene, benzene, xylene, and methanol. The agency says that adding NGP facilities to the TRI program would allow information on chemical releases and other waste management activities for these TRI-listed chemicals to be available to the public.
EPA's TRI program (section 313 of the Emergency Planning and Community Right to Know Act), tracks the management of listed toxic chemicals that may pose a threat to human health and the environment. Facilities in industrial sectors that are covered by the TRI program must report annual amounts of each chemical released into the environment and/or is managed through recycling, energy recovery, and treatment. A "release" of a chemical means that it is emitted to the air or water, or is disposed of on land.
Comments on the proposed rule must be received on or before March 7, 2017. Submit comments, identified by Docket ID No. EPA-HQ-TRI-2016-0390 on the Federal e-Rulemaking Portal.
---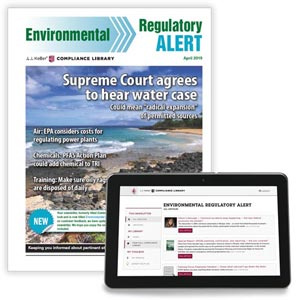 J. J. Keller's Environmental Alert: The Compliance Guide for Safety Professionals helps you stay on top of the latest environmental enforcement issues.
---
J. J. Keller's FREE Workplace SafetyClicks™ email newsletter brings quick-read workplace safety and compliance news right to your email box.