List of State Emergency Declarations extensive
Posted January 18, 2017
Adverse winter weather over the past few weeks has resulted in a number of states declaring emergencies in regard to following specific safety regulations and some permitting.
The Federal Motor Carrier Safety Administration (FMCSA) had indicated it is coordinating with the following states that have Emergency Declarations. To learn more about the specifics and applicability to each, carriers and drivers should review the state's official declaration in the links provided.
Emergency Declarations by State


| | | | |
| --- | --- | --- | --- |
| State | Description | Effective date | Expires on |
| Alabama | Governor of Alabama issues State of Emergency in Preparation for Winter Weather | 01/06/2017 | 02/05/2017 |
| Idaho | Executive Order Declaring a State of Energy Emergency and Temporarily Exempting Certain Carriers from Hours of Service Regulations Under Idaho Law to Help Meet Fuel Demands | 01/04/2017 | 01/27/2017 |
| Montana | Governor Bullock suspends truckers' hours of service due to harsh winter | 12/28/2016 | 01/27/2017 |
| North Carolina | | 01/06/2017 | 02/15/2017 |
| | | 01/06/2017 | 02/05/2017 |
| | | 01/06/2017 | — |
| Oklahoma | The Governor of the State of Oklahoma hereby declare that there is a State of Emergency continuing in the State of Oklahoma. Due to catastrophic weather occurring statewide, it is necessary to assist and expedite all efforts of storm relief. | 01/12/2017 | 02/11/2017 |
| | The Governor of the State of Oklahoma hereby declares the winter storms, snow, freezing rain, ice, severe storms, tornadoes, straight line winds and flooding beginning January 13, 2017, and continuing, may cause extensive damage to public and private properties within the State of Oklahoma; and said damages may cause an undue hardship on the residents of this state. | 01/12/2017 | 02/11/2017 |
| Virginia | | 01/06/2017 | 03/03/2017 |
How do Emergency Declarations work?
The President, Governors of States, or FMCSA may issue emergency declarations for those providing vital supplies and transportation services to a disaster area in the United States. Relief from Federal Motor Carrier Safety Regulations is limited to a maximum of 30 days, unless extended by FMCSA itself.
Motor carriers and drivers engaged in specific aspects of the emergency relief effort may be given temporary suspension of certain federal safety regulations, including hours of service.
The FMCSA has provided the following conditions in regard to taking advantage of one of the Emergency Declarations:
Drivers responding to provide "direct assistance" to an "emergency" meeting the definitions in 49 CFR 390.5 and declared by FMCSA or a governor, are exempt from applicable regulations in all states on their route to the emergency, even though those states may not be involved in the emergency or stated in the declaration of emergency.
These exemptions, when in effect, only apply to 49 CFR Parts 390-399. They do not exempt drivers/carriers from the requirements relating to CDL, drug/alcohol, hazardous materials, size and weight, or state/federal registration and tax requirements. However, a Governor's Declaration may add some of those exemptions.
Even if an Emergency Declaration is still in effect, the emergency must be on-going and you must be providing direct emergency assistance in order to be exempt from safety regulations.
There is no requirement to carry a copy of the declaration in the vehicle unless stated so in the declaration itself.
Drivers and carriers should coordinate with state emergency officials before providing assistance. State regulations regarding size and weight, permits, taxes, etc. may not have been waived.
Even though safety regulations may be suspended, drivers and carriers are expected to use good judgment and not operate vehicles with fatigued or ill drivers, or under any conditions presenting a clear hazard to other motorists using the highways.
---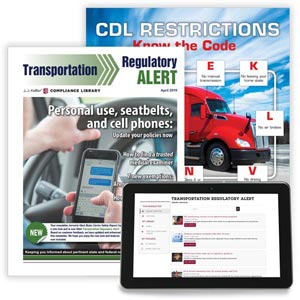 J. J. Keller's Motor Carrier Safety Report keeps you current on federal and state compliance information that impacts your drivers, trucks, and bottom line.
---
J. J. Keller's FREE Transportation SafetyClicks™ email newsletter brings quick-read safety and compliance news right to your email box.