EPA proposes revisions to public notice provisions in air permitting programs
Posted December 30, 2015
EPA is proposing revisions to the "public notice" rule provisions for the New Source Review (NSR), title V, and Outer Continental Shelf (OCS) permit programs of the Clean Air Act (CAA) and the corresponding onshore area (COA) determinations for implementation of the OCS air quality regulations. This action would remove the mandatory requirement for permitting agencies to provide public notice of a draft air permit, as well as certain other program actions, through publication in a newspaper. EPA is proposing to instead allow for electronic noticing (e-notice) of these actions.
The current rules for the major NSR, title V and OCS programs were issued in the 1980s and 1990s, prior to the electronic media age. Consequently, these rule sections were written to require that agencies notify the public of permitting actions by way of newspaper publication, which was the most effective way to advertise permits at the time. Over the years, availability of and access to the Internet and other forms of electronic media have increased significantly in the U.S.
Recently, many air agencies began to supplement the required newspaper publication with an electronic posting of permit notices using their agency websites. According to EPA, once the permitting agency develops a website and formats it to post permitting notices, the agency has an effective, convenient, and cost-effective way to communicate permitting-related information to the majority of the public.
The proposed revisions would apply to major source air permits issued by the EPA, by EPA-delegated air agencies, and by air agencies with EPA-approved programs (with the exception of permits that are issued pursuant to the Tribal NSR Rule, which already allows for e-notice methods). The proposed revisions would require e-notice for the noticing of major source permits by these agencies. As part of the e-notice requirement, the agency would also need to post the draft permit on a website. However, the proposed rule would not preclude the practices of agencies to provide other additional means of notification to communities that may be affected by permit actions, if those means would better reach particular communities.
The agency expects the proposal to appear in the December 29, 2015, Federal Register. Once published, EPA will accept comments for 60 days. All comments should be identified by Docket ID No. EPA-HQ-OAR-2015-0090 and submitted to the federal e-rulemaking portal. Follow the online instructions for submitting comments.
It is noteworthy that EPA is seeking comment on a number of aspects of the proposal including whether an air agency must use a consistent noticing method for all permit actions and whether an agency may use an alternative noticing method if its website is offline for a period of time.
---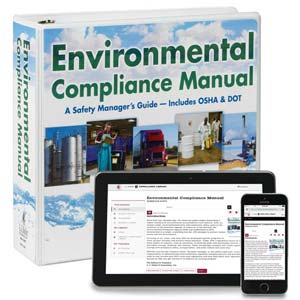 J. J. Keller's Environmental Compliance Manual is packed with easy-to-understand information on regulations, environmental issues and compliance.
---
J. J. Keller's FREE Workplace SafetyClicks™ email newsletter brings quick-read workplace safety and compliance news right to your email box.