Free Warehouse Safety Whitepaper
Prepare Your Warehouse for an OSHA Safety Inspection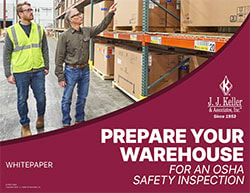 To tamp down soaring incident rates, OSHA has announced a new National Emphasis Program (NEP) that will focus on warehouses, distributions facilities and order fulfillment centers. While this enforcement targeting program hasn't officially launched yet, it pays to be proactive and prepare in advance.
J. J. Keller's latest whitepaper offers how-to guidance to help you Prepare Your Warehouse for an OSHA Safety Inspection. Written by the nation's leading safety experts, you'll learn:
What we anticipate the Warehouse NEP will cover
10 areas of emphasis you can't afford to overlook
What records OSHA officers will want to see
Key things to keep in mind during an OSHA inspection
Fill out the form below to download your FREE copy today!