Free Whitepaper Download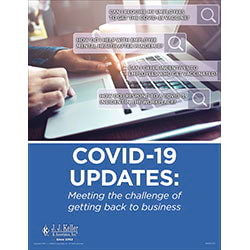 COVID-19 Updates: Meeting the Challenge of Getting Back to Business
As more employees return to the office and many businesses resume a sense of normalcy, it can be easy fall back into old habits and processes. However, employers should continue applying lessons learned during the COVID-19 pandemic to keep their employees healthy and workplaces safe. From vaccination policies to OSHA's COVID-19 Emergency Temporary Standard, businesses have important questions to answer as they welcome workers back.
Beyond physical health, employers must also support employees' mental wellbeing during this period of transition. Whether employees are working onsite, at home, or a combination of the two, there are various ways businesses can provide them the resources they need.
Fill out the form to download your FREE whitepaper.