Free Whitepaper
OSHA Injury and Illness Recordkeeping and Reporting Related to COVID-19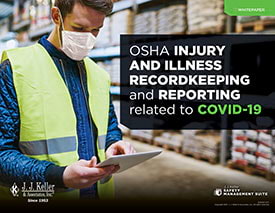 The COVID-19 pandemic is changing the way we do business in this country. Workers who are able to are now working from home, and workers who are in construction or manufacturing are practicing social distancing on the job.
Because the crisis is unprecedented, OSHA is releasing guidance in short bursts.
This whitepaper examines what OSHA has to say about the recordability of COVID-19 in the workplace along with the agency's injury and illness recordkeeping and reporting regulations in 29 CFR Part 1904.
Fill out the form and click submit to download the whitepaper now.