Free Entry-Level Driver Training Whitepaper
Complying With New Requirements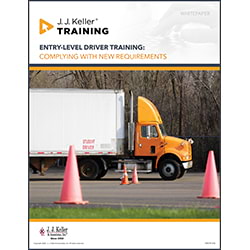 As of February 7, 2022, an entry-level driver must, prior to taking the skills test, successfully complete a prescribed program of theory and behind-the-wheel instruction provided by a school or other entity listed on FMCSA's Training Provider Registry (TPR).
Written by J. J. Keller Editor Jill Schultz, the free whitepaper Entry-Level Driver Training: Significant Changes On The Horizon covers the new training requirements, including:
Who is subject to the requirements
Training curriculum specifications
Training provider and instructor criteria
Recordkeeping requirements
And more!
Fill out the form to download your FREE whitepaper - Entry-Level Driver Training: Complying With New Requirements.