Free Whitepaper & ELD Price Quote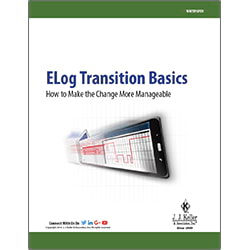 ELog Transition Basics: How to Make the Change More Manageable
You may be waiting to implement ELDs (Electronic Logging Devices). However, December 18, 2017, is fast approaching, so now is the time to transition to a compliant ELD system.
We have a roadmap to guide your transition. Written by Senior J. J. Keller Editor Mark Schedler, the whitepaper covers:
Preparing for the change
Selecting an ELD
Managing the change
Training drivers, supervisors, and staff
Reinforcing the change
Fill out the form to download your FREE whitepaper - ELog Transition Basics: How to Make the Change More Manageable - and get a price quote for J. J. Keller's ELD system.