Free Temporary Workers Whitepaper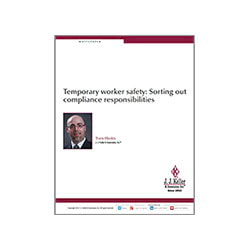 Temporary worker safety: Sorting out compliance responsibilities
Who is responsible for temporary worker safety? Is it the host employer? The staffing agency? Both?
Too often, no one takes on the responsibility for safety, which exposes temporary workers to serious dangers – and exposes both employers to potential OSHA fines.
This whitepaper addresses how to identify who is responsible for various OSHA compliance obligations, based on OSHA guidance, regulations and policy statements.
Fill out the form to download your FREE temporary workers whitepaper.