Two more states jump on the paid sick leave bandwagon
Posted December 1, 2016
The recent elections brought about many changes, and some of these changes involved states enacting paid sick leave measures. With Arizona and Washington on board, the total number of states with such leave provisions climbs to seven.
California
Connecticut
Massachusetts
Oregon
D.C.
Vermont
Arizona
Washington
Arizona
Arizona's Proposition 206 provides up to 40 hours of earned paid sick leave per year for all employees of employers with 15 or more employees. Employers with fewer than 15 employees are to provide up to 24 hours of paid sick leave. The sick leave accrues at one hour earned for every 30 hours worked.
The leave may be taken for the following reasons:
Employee's illness,
Family member's illness,
Public health emergencies, or
Domestic violence.
Employees will begin to accrue the paid time off on July 1, 2017, or upon hire, whichever is later. Employers may provide a lump sum at the beginning of the year. Employers may require a 90-day waiting period after hire before taking the leave. Unused leave is carried over to the following year, subject to the 40- or 24-hour cap. Employers may choose to pay out an employee for the unused leave at the end of the year, as long as the employee has leave available at the beginning of the subsequent year.
Employers are to provide information about the paid leave to employees. They are also to include with or on regular paychecks, the amount of paid sick time earned and used in the year, as well as how much pay the employee has used with leave. This could require some reconfiguring of payroll systems.
Washington
Washington's Initiative 1433 has some similarities, as it provides for up to 40 hours of paid sick leave, but it applies to all employers and all employees. Employees accrue one hour of paid leave for every 40 hours worked. Employees are entitled to use the leave 90 days after hire.
The leave may be taken for the same reasons as Arizona's law.
Employees will begin to accrue the paid time off on January 1, 2018. Unused leave carries over to the following year, but employers may maintain a 40-hour cap. Employers need not pay out unused leave. If an employee is rehired within 12 months, the employee picks up where he or she left off in regard to the leave.
The tide continues
The growing tide of states with paid sick leave provisions is worth watching, as the trend could be seen as support for federal provisions down the road. For now, if you have employees in any of these seven states, you will need to be aware of the particular leave provisions.
---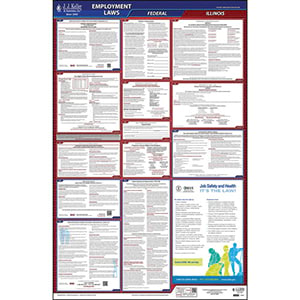 J. J. Keller's State & Federal Employment Law Posters help you meet state and federal labor law posting requirements.
---
J. J. Keller's FREE HRClicks™ email newsletter brings quick-read human resources-related news right to your email inbox.