Employer data to go online as early as February 2017
Posted December 15, 2016
Starting February 2017 OSHA will make workplace injury and illness data public on its website, according to a December 13 blog written by OSHA head Dr. David Michaels. Dr. Michaels says this comes "at little burden to employers," because they will be providing information to OSHA that they already collect. The only difference is this information will now be made public.
OSHA will scrub the data of personally identifiable information and post the information to the Agency's website — where anyone can access it.
This means that job applicants will be able to check employer safety records to see which job sites may be more hazardous. Employers will be able to compare their safety records against others in similar industries. And journalists, researchers, and worker advocates will have more data to work with.
Michaels points out that making the injury and illness information public will also help OSHA fill in the gaps in safety enforcement. Currently, OSHA is understaffed and unable to conduct inspections for each of the workplaces under its jurisdiction. Also, in comparison to environmental and consumer enforcement agencies, OSHA's penalties are so low that they fail to serve as a deterrent.
Michaels compared the new approach to health inspection grades posted in restaurant windows in some cities. For example, in Los Angeles, revenues rose in restaurants with higher ratings, while those with hospitalizations for food-borne illnesses decreased. Just as the restaurants have incentives to maintain the highest sanitary standards, employers will have incentives to maintain safe and healthy workplaces.
OSHA's Injury Tracking Rule becomes effective on January 1, 2017; however, employers are not required to submit their data until July 1, 2017. The Agency has not yet released information on how these data submissions will occur.
Background
On May 11, 2016, OSHA issued the Improve Tracking of Injuries and Illnesses final rule. The rule requires employers with 250 or more employees to report all of their injury and illness data (e.g., the OSHA 300 Log, 300-A Summary, and 301 Incident Reports) to OSHA electronically. Employers with 20-249 employees in certain high-risk industries will report their 300-A Summary information to the Agency electronically.
The first reporting deadline is July 1, 2017, for 2016 data. For this first data submission, all employers will only submit their 300-A Summary data. Next year, employers with 250 or more employees will submit their 300 Log, 300-A Summary, and 301 Incident reports by July 1, 2018. Covered employers with 20-249 employees will submit only their 300-A Summaries by that date. In 2019, the reporting date switches permanently to March 2.
The rule also requires employers to establish a reasonable way for employees to report work-related injuries and illnesses and prohibits employers from retaliating in any way against employees who do so.
---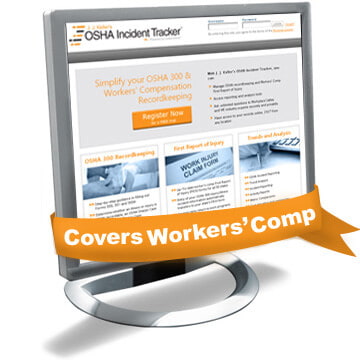 J. J. Keller's OSHA Incident Tracker™ Tool is an up-to-date online service that helps you simplify your OSHA Form 300 and worker's compensation recordkeeping.
---
J. J. Keller's FREE Workplace SafetyClicks™ email newsletter brings quick-read workplace safety and compliance news right to your email box.