EPA proposes ban on trichloroethylene as aerosol degreaser, spot remover
Posted December 9, 2016
EPA is proposing to ban certain uses of trichloroethylene (TCE) when used as a degreaser or spot removal agent in dry cleaning. This is the first major regulatory action under the revamped Toxic Substances Control Act (TSCA) as amended by the Frank R. Lautenberg Chemicals Safety for the 21st Century Act.
A 2014 assessment identified serious health risks to workers and consumers exposed to TCE, including risks for cancer, development and neurotoxicological effects, and liver damage.
The proposed rule would prohibit the manufacture and import, processing, and distribution in commerce of TCE for use in aerosol degreasing and for use in spot cleaning in dry cleaning facilities. EPA is also proposing to require manufacturers, processors, and distributors to notify retailers and others in their supply chains of the prohibitions.
Evaluating other uses of TCE
Because the 2014 assessment also identified risks associated with TCE use in vapor degreasing, EPA is working to develop regulations to address those uses as well. EPA notes that TCE is listed as one of the first ten chemicals to be evaluated for risk under TSCA, which will allow the agency to evaluate the other remaining uses of the chemical.
The agency will accept comments on the proposed rule for 60 days after it is published in the Federal Register.
---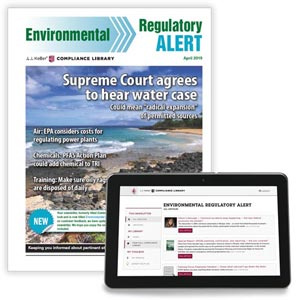 J. J. Keller's Environmental Alert: The Compliance Guide for Safety Professionals helps you stay on top of the latest environmental enforcement issues.
---
J. J. Keller's FREE Workplace SafetyClicks™ email newsletter brings quick-read workplace safety and compliance news right to your email box.