Ohio legalizes recreational marijuana
Posted November 15, 2023
Voters in Ohio approved a recreational marijuana ballot measure on November 7 that allows employers to continue to enforce strict drug testing policies.
When Ohio's law takes effect on December 7, it becomes one of 24 states allowing recreational marijuana use. Ohio already has approved marijuana use for medical purposes.
In contrast to a number of newer recreational marijuana laws that protect an employee's off-duty use of the drug, Ohio's law emphasizes the rights of employers.
Testing still allowed
As Ohio's marijuana law does not require accommodation of off-duty marijuana use, employers may take action based on a positive test for the drug. Under the state's new law, employers may:
Establish and enforce a drug testing policy, drug-free workplace policy, or zero-tolerance drug policy;
Refuse to hire an individual because of cannabis use;
Discharge, discipline, or otherwise take an adverse employment action against an employee because of use, possession, or distribution of cannabis; and
Continue to participate in the state's Drug-Free Safety Program and conduct required testing to obtain a discount on workers' compensation insurance.
No legal action
The law also prohibits employees or applicants from bringing a cause of action against an employer for not hiring or taking a negative employment action because of marijuana use.
This includes discharging, disciplining, discriminating, retaliating, or otherwise taking an adverse employment action related to cannabis use.
No unemployment insurance leeway
An employee terminated for marijuana use may find it difficult to receive unemployment insurance. The law considers an employee terminated because of marijuana use or a positive marijuana test to have been discharged for just cause if use was in violation of a:
Drug-free workplace policy,
Zero-tolerance policy, or
Another formal program or policy regarding cannabis use.
Different laws in other states
Ohio's marijuana law, and the protections it offers to employers, only apply in that state. Other states have marijuana laws that are more restrictive of marijuana testing.
This article was written by Darlene Clabault of J. J. Keller & Associates, Inc.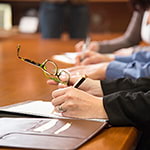 Looking for more on HR compliance?
Get the information and products you need to stay on top of industry changes and comply with regs.