Chemical Board's animated video describes events leading up to chemical plant fires
Posted November 17, 2017
The U.S. Chemical Safety Board (CSB) released an animated video with a preliminary explanation of the events that led to a large fire at a chemical plant in Crosby, Texas. The fire was related to flooding caused by Hurricane Harvey.
The chemical plant, located near Houston, Texas, manufactured and distributed organic peroxides, which are highly reactive chemicals used to make certain consumer products. These organic peroxides must be handled carefully and must be stored in refrigerated conditions to prevent them from decomposing and catching fire. The plant's organic peroxides were stored in several temperature-controlled warehouses and were shipped offsite in refrigerated trailers.
On August 26, in response to Hurricane Harvey, the chemical plant implemented its hurricane preparedness plan. The next day, rising waters caused the plant to shut down several of its facilities, including some of the low-temperature warehouses and their generators. Without power, the warehouses were at risk of warming to the point where the organic peroxides would decompose. To prevent this, plant operators began moving the chemicals to other warehouses that still had power. They also moved some of the organic peroxides onto refrigerated trailers, which, when full, were moved to a yard on the north side of the plant.
On August 29, the facility's transformers were flooded, leaving the entire plant without power. While backup generators provided power to the largest warehouse, workers believed the generators would soon be flooded as well. Therefore, the workers moved all the remaining organic peroxides from the warehouse onto refrigerated trailers.
Taking matters from bad to worse, floodwaters reached the lot where the refrigerated trailers had been moved, causing them to fail. In addition, three other trailers were stranded near the warehouses, although workers continued to load organic peroxides onto them, sometimes by hand. After all the organic peroxides were moved from the warehouses onto the refrigerated trailers. These trailers also failed due to rising floodwaters and began to heat up.
The owners of the plant informed the fire department that the organic peroxides were at risk of heating up and catching fire. On August 30, officials evacuated all remaining workers from the site, in addition to all residents within a 1.5-mile radius of the plant. On August 31, as the trailers nearest the warehouse increased in temperature, the peroxides spontaneously combusted. On Sunday, September 3, officials ignited the remaining trailers. The evacuation zone was lifted on September 4, 2017.
The CSB, an independent, non-regulatory federal agency that investigates the root causes of major chemical incidents, is still investigating the chemical fires.
---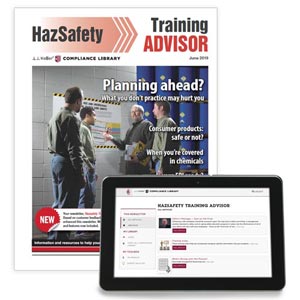 J. J. Keller's HazSafety Training Advisor helps employees understand regs and best practices related to Hazmat, HazCom, HazWaste, and HAZWOPER.
---
J. J. Keller's FREE Workplace SafetyClicks™ email newsletter brings quick-read workplace safety and compliance news right to your email box.