Seat belt use increased 1.6 percent since last year
Posted November 30, 2016
The number of people using seat belts in the United States reached its highest level since national surveys began in 1994, the National Highway Traffic Safety Administration (NHTSA) reports.
The most recent data was the result of a large-scale observational study of passenger vehicles conducted by NHTSA in June 2016. It revealed daytime (7am to 6pm) seat belt use by drivers and right-front passengers reached 90.1 percent. This is up from 88.5 percent in 2015.
NHTSA's study, the National Occupant Protection Use Survey (NOPUS), is the only survey that provides nationwide probability-based observed data on seat belt use in the United States. NOPUS also made other observations, including the use of child restraints, motorcycle helmets, and driver electronic devices.
Statistics of note
According to NHTSA, seat belt use saved:
Nearly 14,000 lives during 2015, and
An estimated 345,000 lives since 1975.
Seat belt use:
Is higher in the West than in the other regions of the U.S, and
Continued to be higher in the states with primary belt use laws.
NHTSA also reports significant increases in the last year among drivers and passengers of vans and SUVs, and those in rural areas.
Change in mindset over the years
State seat belt laws and the strong enforcement of them — including the national Click It or Ticket campaign — have been credited for the increases use of the devices. NHTSA's renowned "Vince and Larry" crash test dummy public service campaign of the 1980s and 1990s also increased awareness and contributed to the current usage rates.
Thirty-four states, the District of Columbia, American Samoa, Guam, the Northern Mariana Islands, Puerto Rico, and the Virgin Islands have primary seat belt laws for front seat occupants, while 15 states have secondary laws. In many of these states, the law is primary for younger drivers and/or passengers.
---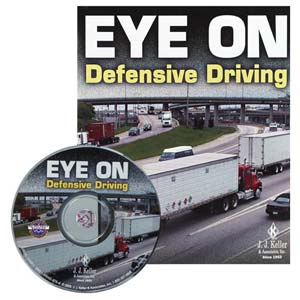 J. J. Keller's EYE ON Defensive Driving - DVD Training is a one-of-a-kind educational tool that trains your drivers on defensive driving techniques, then puts their skills to the test.
---
J. J. Keller's FREE Transportation SafetyClicks™ email newsletter brings quick-read safety and compliance news right to your email box.