School buses safer than family cars, NTSB reports
Posted November 10, 2016
School buses are a safer form of transportation for children than a parent's car, according to a recent National Transportation Safety Board (NTSB) video.
NTSB attributes this to the design of buses. Buses have a form of occupant protection called compartmentalization. The design of the seats — featuring high seatbacks, closely spaced apart, with energy absorbing properties — creates a compartment that protects children.
"NTSB has found that compartmentalization works well to protect children in frontal and rear impact crashes, but, in some side-impact or high-speed rollover crashes, compartmentalization is not enough to prevent injuries," said NTSB Chairman Christopher A. Hart. "This is because the seatback does not prevent motion from side-to-side or up-down. In those very rare instances, for some children, a seat belt could have reduced injuries and even saved lives."
NTSB's video also examines three recent crashes in Chesterfield, New Jersey; Port St. Lucie, Florida; and Anaheim, California that have provided the NTSB with invaluable information.
For additional information about these crashes, along with the safety video, visit the NTSB website.
---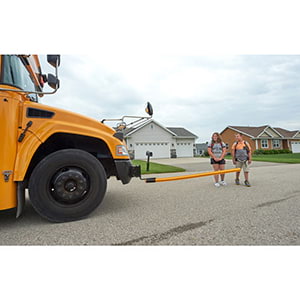 J. J. Keller's Safe Driving: School Bus Drivers - Passenger Safety - Pay Per View Program provides practical messages for new and veteran school bus drivers that focus on everyday situations.
---
J. J. Keller's FREE Transportation SafetyClicks™ email newsletter brings quick-read safety and compliance news right to your email box.