'Most Wanted' list targets seven highway-safety priorities
Posted November 22, 2016
Eliminating driver distraction and requiring on-board data recorders are among the highway safety improvements appearing on this year's "Most Wanted" list from the National Transportation Safety Board (NTSB).
Issued annually since 1990, the list serves as a roadmap to guide the country toward safer transportation systems, including trucking, busing, aviation, rail, pipeline, and marine. Seven out of 10 priorities for 2017-2018 address highway transportation.
This is the first time the list will remain static for two years.
"This new two-year cycle will help to focus our advocacy efforts on sustained progress," said NTSB Chairman Christopher Hart in announcing the list. "We will take stock at the one-year mark, note what progress has been made, and decide what additional improvements are needed."
The following are the NTSB's highway-safety priorities for 2017-2018:
Increase implementation of collision avoidance technologies, such as collision warning and autonomous emergency braking in highway vehicles.
End alcohol and drug impairment, especially in light of marijuana decriminalization, increasing use of synthetic drugs, and a dramatic rise in over-the-counter and prescription medication use and abuse.
Reduce fatigue-related accidents by ensuring adequate rest and finding and treating fatigue-related medical and medicinal issues.
Require medical fitness. Company owners and government regulators must develop policies to ensure that safety-critical personnel are medically fit for duty, and transportation professionals have a personal responsibility to ensure their own health and welfare.
Eliminate distractions through changes in regulations, thinking, and behavior. Drivers and operators in all modes must keep their hands, eyes, and minds focused on operating their vehicle.
Strengthen occupant protection. Proper use of seat belts and restraints is key, but occupant protection systems need to be better designed to preserve survivable space and ensure ease of evacuation.
Expand data recorder use. "Data from recorders can help investigators determine the cause of an accident, but an operator can also use recorders to identify and correct unsafe operations and prevent accidents in the first place," the NTSB wrote. The Board is calling on federal regulators to mandate recorder use.
The NTSB is an independent federal agency charged with determining the probable cause of transportation accidents, promoting transportation safety, and assisting victims of transportation accidents and their families.
---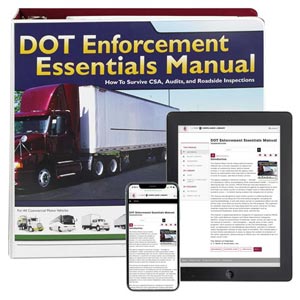 J. J. Keller's DOT Enforcement Essentials Manual is a tool that helps proactively enforce in-house and roadside compliance and prepare for FMCSA audits.
---
J. J. Keller's FREE Transportation SafetyClicks™ email newsletter brings quick-read safety and compliance news right to your email box.