Cargo Documentation Cannot Be Taken Lightly
Posted November 21, 2016
Motor carriers have many topics of great concern in today's transportation industry. Managing costs, as one may expect, will always be at the top of this list of concerns. Costs continue to rise in spite of management's efforts to contain them. Driver costs (including wages), fuel costs, the cost of regulation, and insurance costs on both vehicle and health insurance all have demanded a keen focus for a well-run company. As these issues tend to consume management's energy for keeping pace with desired profit margins, it becomes very easy to lose sight of a basic principle in business ― make the sale and then close the deal.
A "for-hire" motor carrier closes the deal by properly managing the most important document it will ever come in contact with, the bill of lading. This document clearly establishes the relationship between the shipper and the carrier. It describes the goods to be transported, to whom the shipment is going, what specific instructions are necessary for proper transportation services, and most important, it declares who will be responsible for the freight charges.
As academic as all this may seem, the proper handling and management of the bill of lading continues to be one more very costly item where management can waste hard-earned revenue to correct something that should have been done right the first time.
Learning the hard way…
Ask any carrier whose driver failed to sign a bill of lading "SL&C" (shipper load and count) when the driver was never present at the time the shipment was loaded onto the carrier's trailer. When the shipment arrived at destination, the quantity stated on the bill of lading did not match what was actually delivered. It seems the carrier is now liable for the goods missing and must pay a claim.
Or ask a carrier who hauled a shipment of hazmat without the bill of lading completed properly at the point of origin. Enforcement officials at roadside inspections tend to take a harsh view of these matters as is made evident by steep fines for documentation violations, not to mention an elevated score in the CSA program, causing another series of potential costs.
These are but two examples of wasting hard-earned revenue and increasing costs due to an error that could have been easily avoided. The sale was made and, once the driver signed the bill of lading, the deal was closed. Responsibility fell with the carrier in spite of the shipper's involvement.
A review by all employees of the proper handling of bills of lading is a cost that management has within its power to contain.
---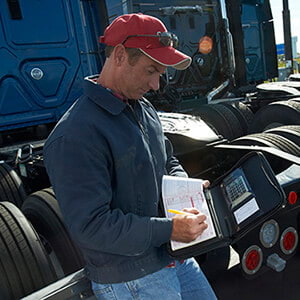 J. J. Keller Transportation Safety and DOT Training programs provide a range of formats and topics to help keep your drivers on the road and in compliance.
---
J. J. Keller's FREE Transportation SafetyClicks™ email newsletter brings quick-read safety and compliance news right to your email box.