Synthetic drug use by truck driver likely caused fatal crash, NTSB reports
Posted November 19, 2015
On November 17, the National Transportation Safety Board (NTSB) determined that the driver of a truck-tractor that struck a medium-size bus, killing four members of a Texas college softball team, lost control of his vehicle due to incapacitation stemming from his likely use of a synthetic cannabinoid. Synthetic cannabinoids are chemical compounds that are marketed as allegedly legal alternatives to marijuana; however, their effects can be considerably worse and they have been known to cause psychosis, seizures, and nonresponsiveness.
The NTSB found that the driver, who had a documented history of drug use, was operating a truck-tractor with a semitrailer northbound on I-35 near Davis, OK. After negotiating a slight rightward curve, the truck departed the left lane, continued across the 100-foot-wide median, and traveled more than 1,100 feet before striking the medium-size bus in the southbound lane of I-35. Four bus passengers died and five were seriously injured. Six additional bus passengers and both drivers sustained minor injuries.
Federal law prohibits commercial motor vehicle drivers from operating a vehicle while impaired. However, federal regulations require testing for only a few impairing substances. This crash investigation highlights the challenges that employers and law enforcement face in detecting driver use of impairing substances for which testing is not required.
As a result of the investigation, the NTSB issued recommendations addressing impairing substances that are not tested for under federal regulations.
The agency also found that none of the passengers were wearing seat belts, although the bus was equipped with them in all seating positions. Furthermore, the bus driver failed to implement the college's policy requiring passengers to wear seat belts. Had the seat belts been properly worn, they would probably have prevented ejections and reduced overall injuries.
As a result of the investigation, the NTSB called upon states to require seat belt use for all vehicle seating positions that are equipped with belts.
The NTSB also issued or reiterated recommendations regarding side impact protection standards for medium-size buses, on-board recorder system standards for large commercial vehicles, and updated criteria for median barrier installation.
---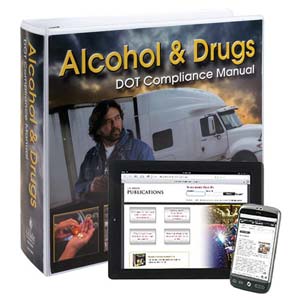 J. J. Keller's Alcohol & Drugs: DOT Compliance Manual is an easy-to-use manual that can help you understand and comply with DOT's Alcohol & Drug Testing requirements, including 49 CFR Parts 382 and 40.
---
J. J. Keller's FREE Transportation SafetyClicks™ email newsletter brings quick-read safety and compliance news right to your email box.
Sign up to receive Transportation SafetyClicks™.