DOL proposes to update Registered Apprenticeship program rules
Posted November 10, 2015
The U.S. Department of Labor's Employment and Training Administration on November 5 announced a proposed rule to update existing Equal Employment Opportunity regulations for Registered Apprenticeship programs.
According the to the DOL, the proposed rule would help ensure equal opportunity for all Americans to take part in these apprenticeship programs regardless of race, sex, color, national origin, disability, age, genetic information, or sexual orientation.
The DOL said the proposed changes would modernize and streamline the rules, which have not been updated since 1978, by:
Extending protections against discrimination to include a broader swath of America's workforce, including protections based on disability, age (40 or older), sexual orientation, and genetic information.
Simplifying and clarifying the affirmative steps employers and sponsors must take to ensure equal opportunity in apprenticeship.
Providing new apprenticeship programs with more time to develop initial affirmative action programs, as well as providing all apprenticeship programs that meet their responsibilities under the rule with additional flexibility in how often they must update their plans.
Simplifying and clearly defining the process for analyzing the talent available in the labor market to establish clear and achievable goals for diversity in apprenticeship.
Clarifying the outreach, recruitment, and retention activities expected of employers with four specific and common-sense required activities, such as advertising openings and partnering with educational institutions to recruit diverse talent.
Creating a more flexible framework for the Office of Apprenticeship and states to provide technical assistance and work with apprenticeship programs that are not meeting their affirmative action responsibilities to bring them back into compliance.
The public will have until January 5, 2016, to provide comments on the proposed rule. Comments can be submitted electronically at www.regulations.gov. Additional information about the proposed rule is available at www.doleta.gov/oa/eeo.
---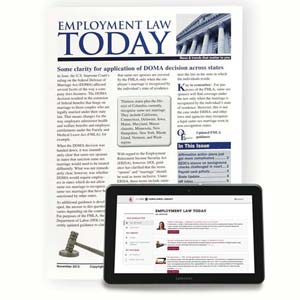 J. J. Keller's Employment Law Today newsletter explains why you need to care, what you need to do and how your business could be affected by HR industry news.
---
J. J. Keller's FREE HRClicks™ email newsletter brings quick-read human resources-related news right to your email inbox.